VinoKilo items tell a story
take a look at the items i have thrifted at the VinoKilo sale. can't wait to wear all of them and happy to continue their new life cycle to give them a new personal character:
(keine angst, es gibt auch eine deutsche version weiter unten...)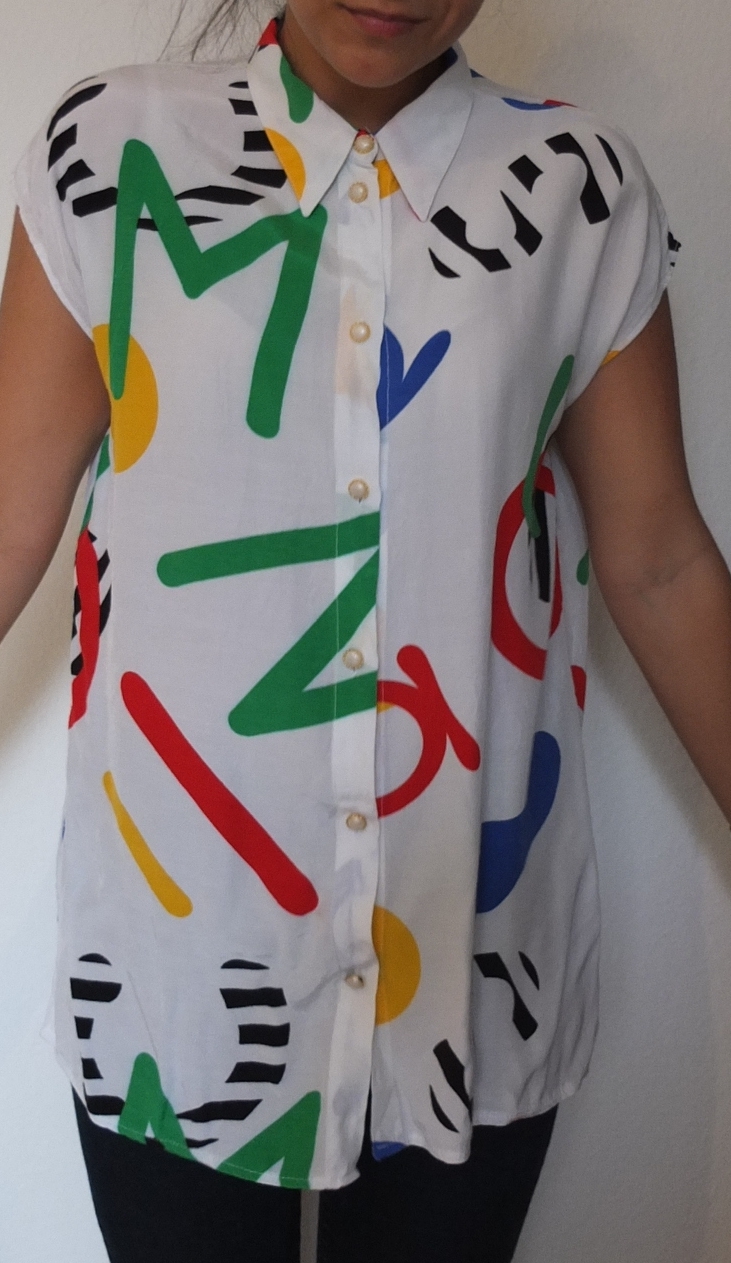 i have found these wonderful clothes at the VinoKilo event i have supported with my new job. the 6 items all tell an individual story which i am happy to continue.
1. the stripped blouse has brilliantly designed chest pockets and a two-colored collar.
2. a guy convinced me to take this funky item, as i have persuaded him to buy a shirt (basically everyone told me him take it but idk why he didnt like it...). the pre-owner must have worn it plenty of times, as one of the seams has been hand-sewed quite unprofessionally. i did not notice it when i bought the item. but was positively surprised and love this very personal touch now :)
3. this is a denim-colored silk shirt and i think it's going to be one of my new favorites. timeless, elegant and with a very combinable color... can't wait to wear it!
4. the second denim-colored blouse had some shoulder pads that made me look like a bodybuilder (seriously, why did women of the 80's wanted to look like schwarznegger?!). after taking them out i feel much more comfortable. and take a look at the cute bottons, - totally mine, because i love goooold!
5. this is a very special item. the college/varsity jacket has been made in the US and preowned by a girl named rosie, who stitched her name on the left side. the tiger and silky material make me feel amazingly dope haha
6. last but not least my new kimono. i couldn't really take a good picture and showcase this interesting item perfectly. the silk kimono has several layers who move very gently. the inside is khaki colored which sets an interesting highlight
die tollen teile habe ich bei dem VinoKilo vintagesale ergattert, welchen ich ein bisschen organisatorisch unterstützt habe. alle 6 teile habe ihre ganz eigene geschichte, die ich jetzt stolz weiter schreiben werde...
1. die gestreifte bluse hat ganz tolle details, unter anderem den zweifarbigen kragen und die brusttaschen.
2. haha, ein kerl hat mich überredet die bluse zu nehmen weil ich ihn zu einem oberteil überredet habe (aaaaalle fanden, dass es ihm stand, nur er irgendwie nicht...). die vorherige besitzerin muss es ziemlich oft getragen haben und hat die eine naht sehr laienhaft zusammen genäht. das habe ich beim anprobieren nicht wirklich gesehen, aber ich finde es ganz witzig, weil es einen persönlichen touch hat.
3. die jeans-farbene seidenbluse wird eine meiner favoriten. zeitlos, elegant und kombinierbar mit so ziemlich allem... freue mich voll das teil zu tragen!
4. die zweite jeans-farbene bluse hatte ganz schreckliche schulterpolster, die mich wie nen body builder haben aussehen lassen (ich kann noch nicht ganz verstehen, wieso die frauen in den 80ern aussehen wollten wir schwarznegger?!). habe sie also rausgenommen und fühle mich tausend mal wohler. und schaut euch die tollen knöpfe an, - gold ist ja voll meins!
5. das ist ein ganz besonderes teil. diese college jacke wurde in amerika hergestellt und wurde von einem mädel namens rosie getragen, die ihren namen auf die brust hat sticken lassen. der tiger und das glaenzende material sprühen nur so vor dopeness haha
6. zu guter letzt mein neuer kimono. ich konnte leider schwer bilder machen und den spannenden schnitt festhalten. der seidenkimono hat mehrere lagen die je nach bewegung übereinander lappen. die innenseite ist khaki, was nochmal ein besonderes highlight setzt.